Stowe backcountry
Tweet
We arrived in the town of Stowe, Vermont last Friday night. After settling in to our hotel and having a few beers we decided to crash to get an early start on the next day.
It hadn't snowed in about five days at Stowe, so we headed right for the glades, hoping to catch some soft snow. The trees off Nosedive, Bypass and Starr kept us entertained through the morning and surprisingly still offered up some fresh tracks. Although tight and extremely steep in some spots, the trees were definitely the way to go. There are plenty of small rock drops to jump off of and the occasional downed tree perfect for rail slides. The glades here are a lot of fun on both skis and snowboard.
After a few inbounds runs we decided to explore some sidecountry acces I had heard about off of the Chin Clip trail. As we exited the gondola I spotted a backcountry warning sign in the area where everyone gathers to put their ski equipment on. We saw a couple of locals heading out of bounds, so we decided to follow and ask some questions. They told us about a run called Hourglass that starts from the top of Mount Mansfield and links up with a path that will lead you back to the ski resort.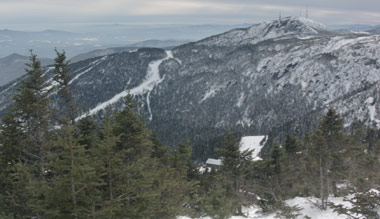 Mount Mansfield is the tallest peak in Vermont and looms above the ski resort of Stowe. The hike to the summit is a 770 vertical foot climb from the top of the Gondola. There was a decent boot pack, so the hike only took about an hour. The views from the summit are magnificent. The day was clear, so we were able to take in all of the surrounding mountains and experience the postcard version of Vermont first hand. After some sight seeing and some photo ops, we put our ski and snowboard gear on and prepared for the decent.
As the name implies, the hourglass is wide at the top and funnels down at the bottom. It is a very managable run, the narrow point isn't too bad, but requires a few quick hop turns and navigating your skis through some small shrubs. After we were through the hourglass we were placed on a narrow, trail winding through some pines trees. We must have taken a wrong turn somewhere, because we wound up bushwacking a short way, until we linked up with a small gully which led us back to the Chin Clip trail. Apparently there is a route from Hourglass that will lead you to some trees which are accessable from Chin Clip. The following day we skied these out of bounds trees off of Chin Clip. Next time we'll have to link it all together for one amazing run.