ABOUT ALTITUDE ADJUSTMENT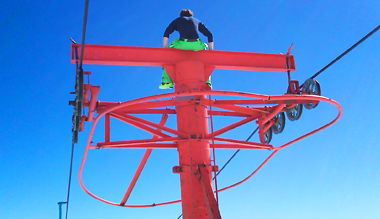 Enjoy the gift of winter; explore the mountains.
"Altitude Adjustment" is an independent film created by Erik Swanson. I have been working in broadcast and cable television for more than 15 years and combined my love of visual storytelling, the outdoors and winter sports to create "Altitude Adjustment," with the help of some very good friends.
Born and raised in the Hudson Valley region of New York, I was constantly in the surrounding mountains growing up, and developed a healthy appreciation and respect for nature. At a very young age my parents introduced me to cross country skiing, which involved skiing up a mountain on narrow trails through a forest preserve. After a brief break for lunch our efforts were rewarded with a thrilling ride back down to the car.
Over time my pursuits on the snow have evolved to include snowshoeing, alpine skiing and snowboarding. I currently enjoy all of these activities whenever possible in a constant effort to find new places to enjoy winter's gift.
There are more projects, text, photos, and videos on the way, so please come back often. We are constantly looking for new locations to visit, whether they are ski resorts or backcountry and sidecountry locations. It is an ongoing hunt for new ways to have a moment alone with nature.
All content on this website is copywritten and the intellectual property of the owners of the site. Any reproduction or use is forbidden without written consent. You may link to any of the pages on this site.