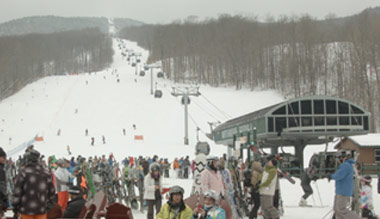 Gore Mountain
Tweet
Gore is a ski area located in the town of Northcreek, NY in the Adirondack mountains. Gore is one of three state run ski areas. The other two are Whiteface, in Lake Placid and Bellayre, in Highmount.
Gore is a large ski area, having 107 runs. A new ski lift was installed this past Fall and several new glades were cut, improving an already great mountain. The longest run from top to bottom is 4.4 miles. This run flattens out a bit in spots, so skiers and boarders are forced to skate along unless the snow is extremely fast that day.
The summit area of Gore offers the most challengin terrain, there are some extremely steep runs and some excellent glades. It is best to his this area right after a new snowfall because it can get tracked up pretty quickly. This winter has made it easy to find good conditions at Gore, so Rumor, Lies, the Straightbrook and Double Barrel Glades have been a blast to challenge your skills against the steeps, bumps and trees.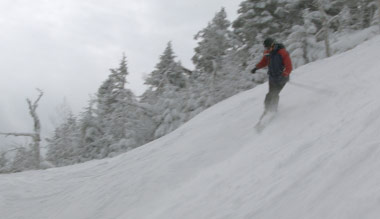 There are glades all over the mountain, with some other standout areas being the Highpeaks Chair and the Burnt Ridge Quad. The High Peaks chair is an old double and runs a little slow, but there are never any lift lines and the trails will tire your legs out well before last chair anyway. The Burnt Ridge Quad is a little bit of a pain to get to, but also worth the effort. There is a route to cut through the Rabbit Run glades, so you avoid a flat cat track over to this part of the mountain. Once you get there be sure to check out the Barkeater glades. Towards the bottom of the run you will cross some power lines and wind up on a cat track back to the lift. Conditions permitting, I recommend skiing down the power lines back to the lift. This is not the official trail, but you will encounter some 10-12 foot rock drops that are a lot of fun when the snow is good.
Gore rarely seems crowded unless you ride the gondola all day, but even then lift lines move much quicker than other ski areas in the Northeast. If you do stick to the front side of the mountain be sure to check out the Quicksilver run. This trail has some natural rollers in it that will give you some air time without even trying if you hit them with speed. There is also a fun terrain park with features that aren't too intimidating for beginners or skiers approaching middle age, like me.
As a whole Gore Mounatin is a fantastic place to visit. There is terrain to suit all ability levels and rarely a long wait in lift lines. The lodge is very nice and has a bar with great food, and usually some excellent live music. On your next trip out check the snow report and consider Gore, you won't be disappointed.