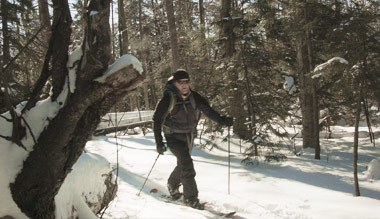 Mount Monadnock, Southern New Hampshire Backcountry
Tweet
Mount Monadnock in southern New Hampshire is supposedly the third most climbed mountain in the world. In the 1930's the Civilian Conservation Corps cut a ski trail on the mountain, which is still maintained today.
The East coast blizzard, Juno, missed most of the ski areas in the North East and New England, so I decided to explore some backcountry options last weekend to enjoy winter's bounty. I called the Monadnock State Park and was told that they had received at least a foot of snow. I mentioned that I wanted to do some alpine skiing on the mountain and was given a kind of "wink, wink, nudge nudge" response. Skiing is permitted on certain trails, but the park does not promote it in any way and encourages people to cross-country ski instead. I had all I needed to know, and packed up my splitboard and backcountry gear to see what this mountain had to offer. My usual backcountry skiing partner was traveling for work, so this was going to be a solo mission.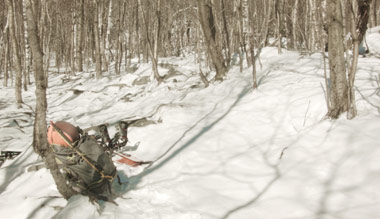 I arrived at Monadnock State Park around 7:30am Saturday morning and started gearing up. The guy that takes the parking fees ($5/person) also provided me with a free map, which was much better than the one I had printed from the internet. After looking over the map, I did an idiot check to make sure I had everything, and headed out onto the trails.
The first half mile on the "White Dot Trail" consists of gentle rolling hills with a slight incline. It was an easy job skinning and basically the equivalent of a nice cross-country ski outing. The cold temperatures (about 3 degrees) and winds must have kept everyone at home. This portion of of the trip was a nice solitary trek through the woods.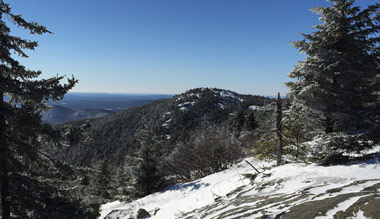 After I had traveled the half mile the trail made a left turn and headed up the mountain. It was still a very peaceful and beautiful trip in the outdoors, but the terrain became more challenging to ascend. My stubborness made this stretch a little more difficult than neccessary because I kept my skins/skis on way longer than I should have. I side stepped up a number of short steep inclines before finally giving in and switching over to crampons. There was plenty of snow on the trail but it hid a layer of ice underneath, which made scrambling over rocks a challenge.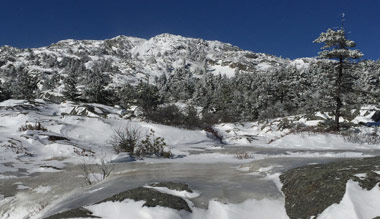 As I climbed higher the views were spectacular. Mount Monadnock is the tallest mountain for 30 miles in every direction, and towers over the surrounding region. On a clear day you can see all of the surrounding states in New England.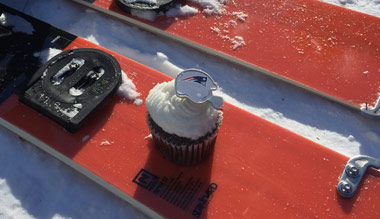 I ventured on a little further and came across a plateau where I could see the summmit. As soon as I stepped from the cover of trees I was pummeled by 70mph wind gusts and thought it best to turn back and start my ski descent. The wind and ice combination didn't make me feel comfortable continuing on without a ski partner. I backtracked slighlty and found a spot to assemble my splitboard.
The run down is a fantastic combination of twists, turns, straight-aways, and the occasional steep section with a few rocks to jump off. There are definitely sections where you can go off the trail and snag some untouched powder, though the park encourages visitors to stay on trail to avoid negative impact to the ecosystem. The coverage was definitely a little thin in spots and my snowboard base took some digs from rocks and twigs, but nothing major. As a fantastic surprise back in the parking area, some nice people I met gave me a Patriot's cupcake in support of their local team. It was a perfect ending to a fun day exploring a new place to ski.
Overall it was a fantastic day out and well worth the hike. It is challenging in certain spots, both on the way up and the ride down. It makes you really appreciate the determination and mind set of the skiers that first skied these trails more than 80 years ago.